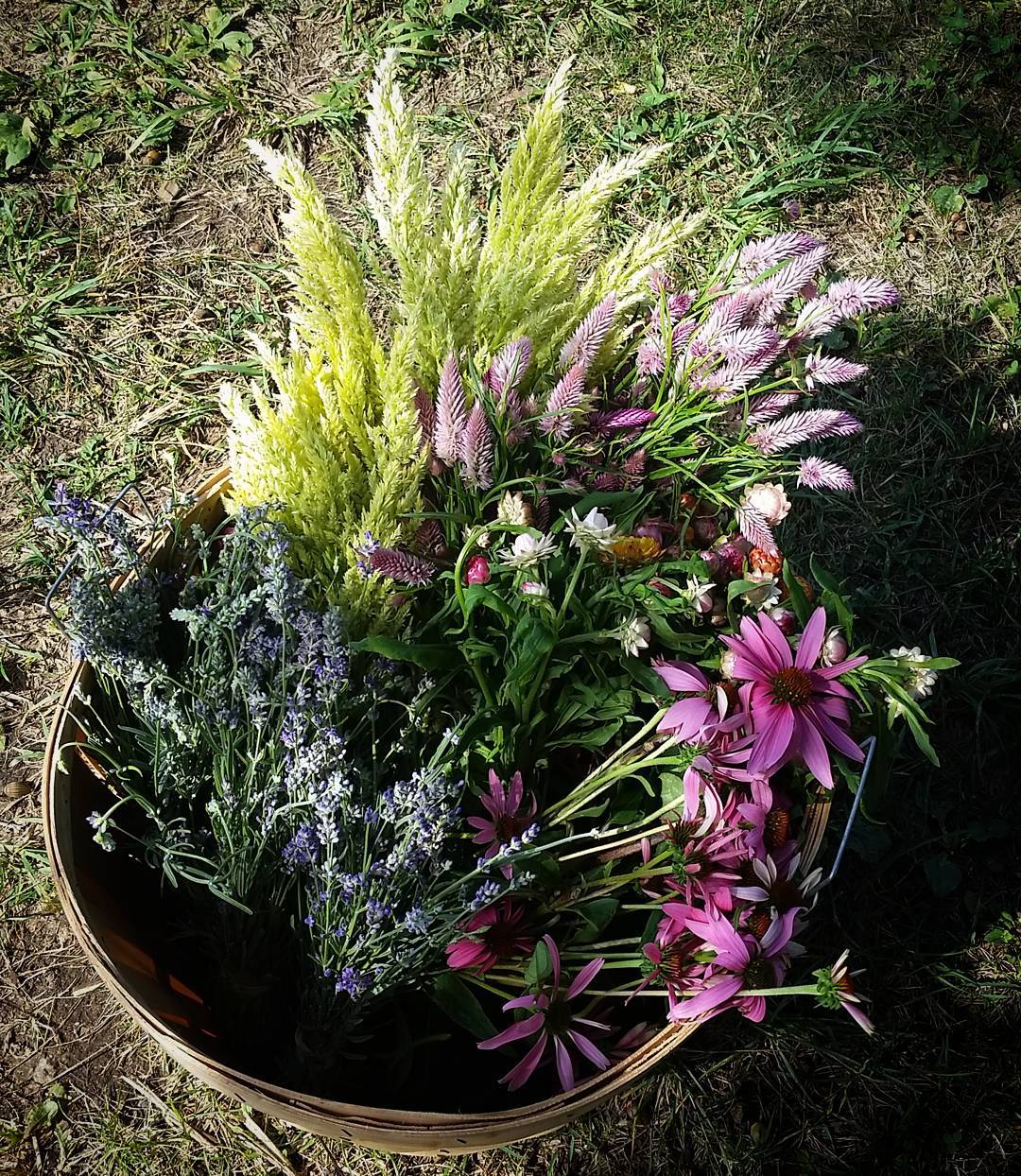 Overview of This Course:
HERBALISM: medicine making, plant
identification & everyday use of herbs
GARDENING: organic & ecological
growing techniques for the home garden
EARTH CONNECTION: heart-based
relationship with land and plants
SERVICE: knowledge and skills that can be shared with your family and community


Welcome
We invite you to join us on a yearlong adventure into the plant realm. Wherever you live—be it in the heart of the city, the expanses of the country, or a suburb tucked in-between—this course will help deepen your relationship with the land you call home. You will meet the healing plants that are your neighbors and learn their roles in folk medicine, spiritual practice, and day-to-day wellness. 
Together we will explore the ways in which herbs can bring us joy and a deeper connection to our own spirits. You will be guided into rekindling your relationships with plants, land, and the ebbs and flows of the seasons. Through practices such as offerings of gratitude and seasonal rituals you will recover a sense of kinship, belonging, and interconnectedness to the spirit of nature.


Our seasonally inspired content is rich, layered, and presented in a way that is easy to digest and understand. Each module includes lessons on practical, tangible, and down-to-earth skills which are woven together with practices of the heart and spirit. The course revolves around the Wheel of the Year, with each module focused on the energies of the season and the plants that define them. Through a framework that draws upon Celtic spirituality, the simple magic of kitchen herbalism, the beauty of botany, and the miraculous wonders of the garden, you will find yourself with an array of new skills and remembered knowledge.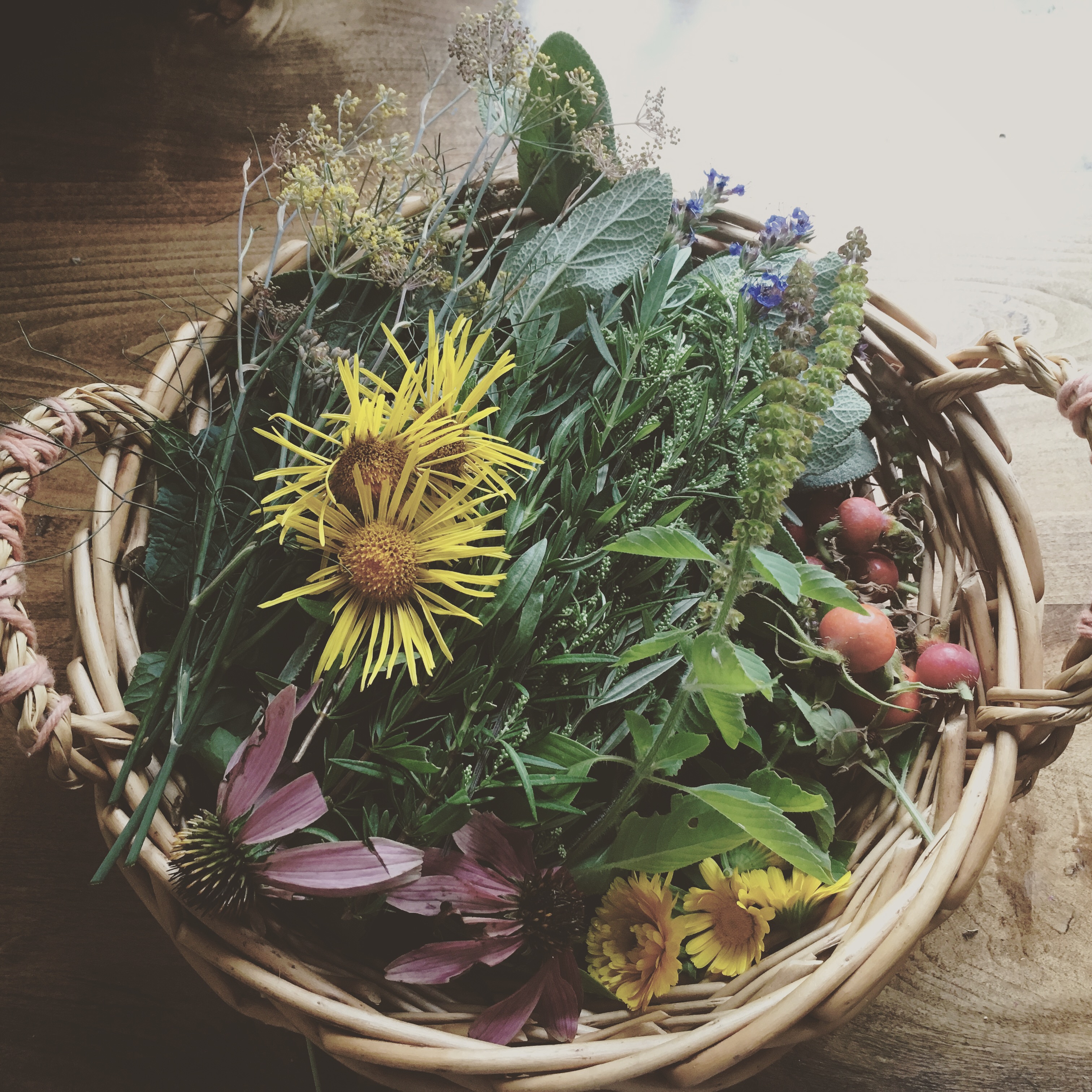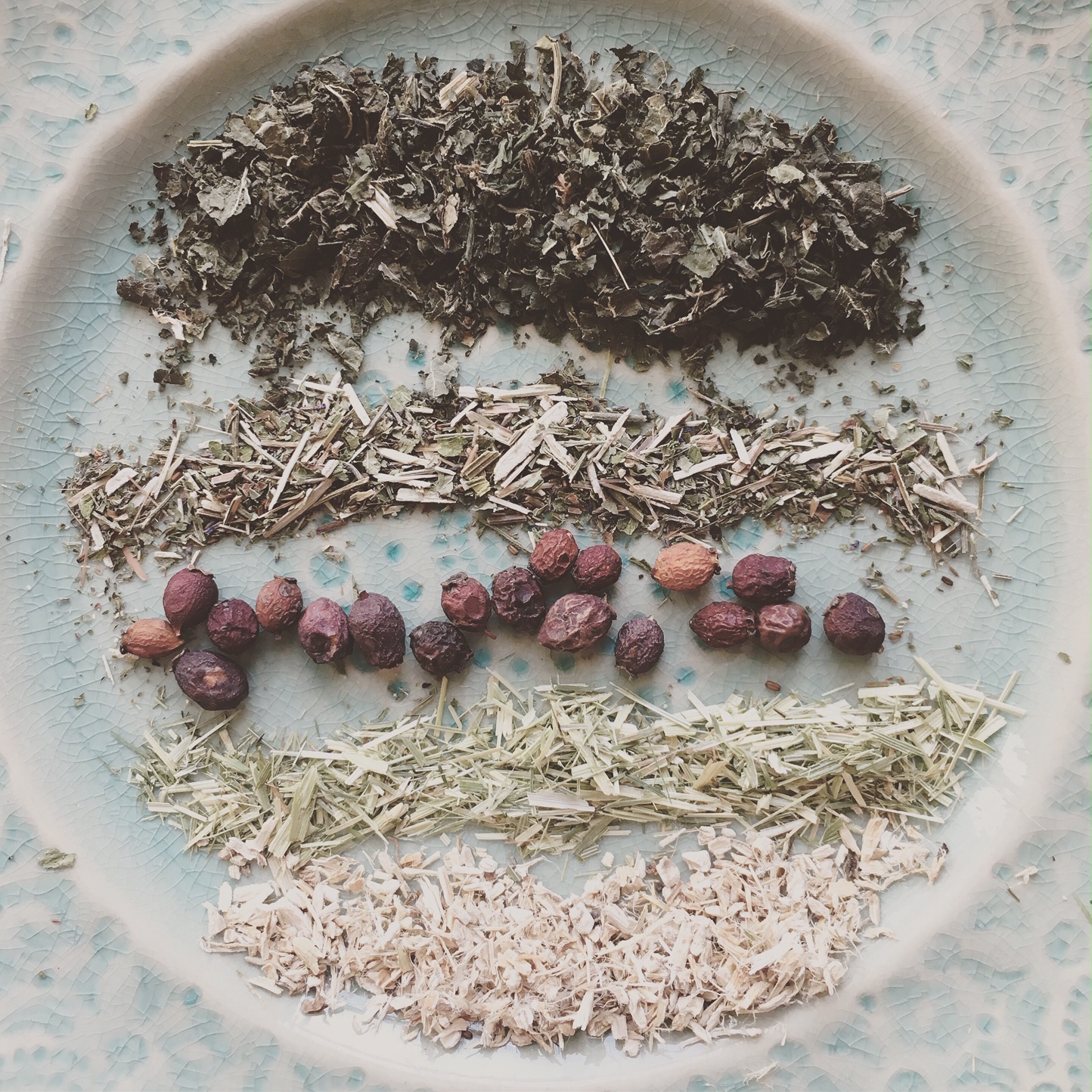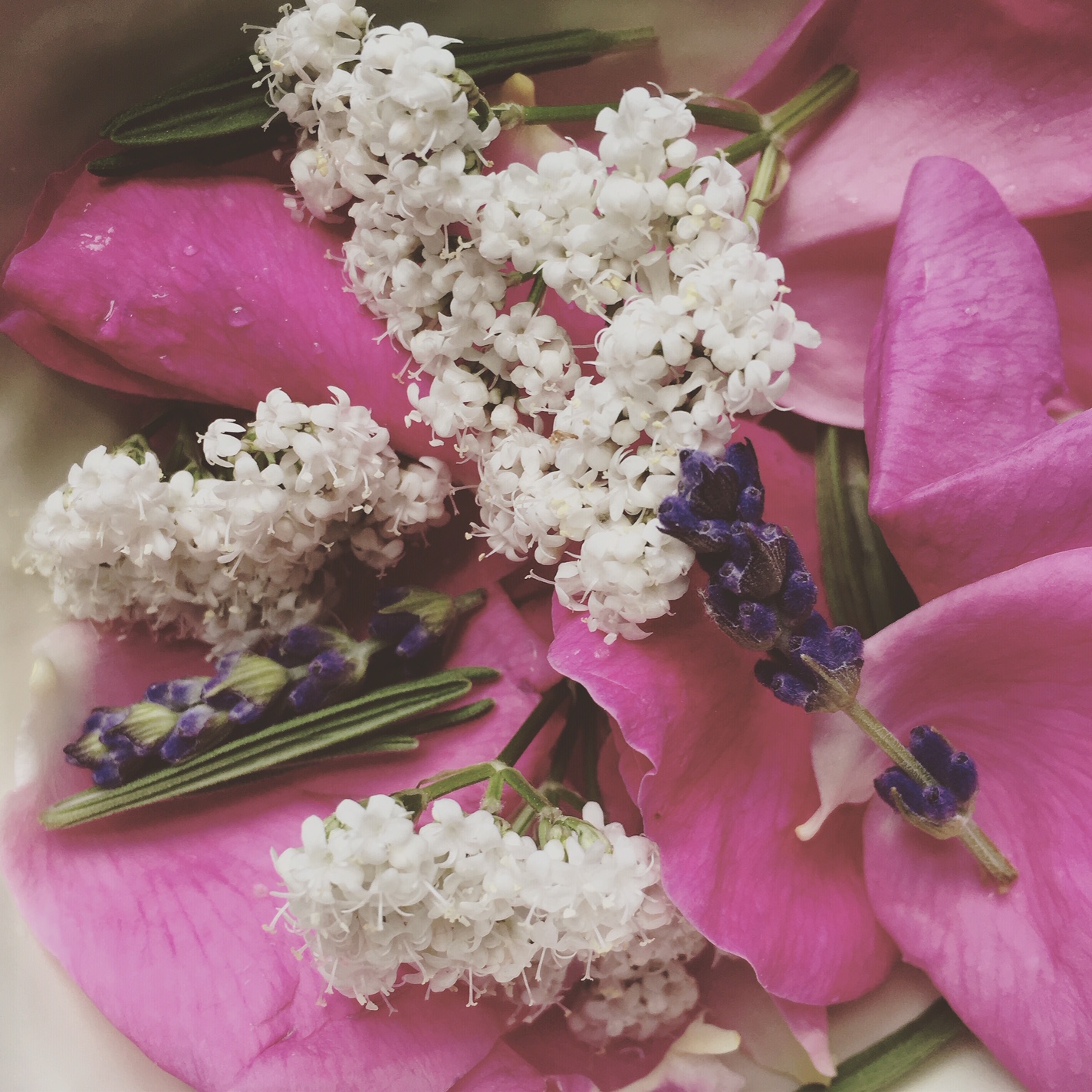 How It Works: A Cyclical Course in 8 Parts
This is an ongoing, cyclical course that will guide you through an entire year. It can be joined at any time, and you will have access to the whole year's content immediately.
Although you will gain access to a whole year of content as soon as you enroll, we recommend that you work with each module seasonally. We take each of the 8 points on the Wheel of the Year as their own season, with the following calendar dates:


Samhain: October 31st to December 21st
Winter Solstice: December 21st to February 1st
Imbolc: February 1st to March 21st
Spring Equinox: March 21st to May 1st
Beltane: May 1st to June 21st
Summer Solstice: June 21st to August 1st
Lughnasadh: August 1st to September 21st
Autumn Equinox: September 21st to October 31st




~ Enroll at any time.
~ Work through the modules seasonally, or dip into other seasons as you wish.
~ Ask questions, post photos and interact with your instructors in the comments section after each lesson.
~ Receive a new introductory video for each season from your instructors at every turn of the Wheel.
The Seasonal Curriculum
based upon the Wheel of the Year
The Celtic Wheel of the Year is made up of four quarter and four cross quarter holidays, resulting in eight points of significance throughout the year. The quarter days (Summer & Winter Solstice and Spring & Fall Equinox) are fixed points based on the position of the sun relative to the earth. The cross quarter holidays (Samhain, Imbolc, Beltane and Lughnasadh) are the peaks of each season, and in the Celtic world are known as the Great Fire Festivals. These four points were important cultural holidays that were traditionally celebrated within a range of days.
8 Seasonal Modules: 
Each seasonal module includes 15 video lessons with corresponding downloadable notes. Modules are broken down into the following categories and include:


~ An introduction to the season and its themes
~ 4 herb profiles with health benefits, folklore, plant identification, and growing tips
~ 4-5 medicine making techniques with recipes
~ 3 ecological gardening skills specific to the season
~ 2 spirit based practices that honor the season
~ a seasonal playlist (available on Spotify)
What You Will Learn:
~ 32 herbs and information on how to grow, wildcraft, and create medicine with them
~ 30+ medicine making techniques for the home apothecary
~ The basics of plant identification
~ Backyard gardening skills such as seed-starting, building healthy soil, garden design, creating bird and pollinator habitat, and organic weed control
~ How to respectfully harvest, process, and store herbs
~ Ways of cultivating deeper relationships with natural world
~ Practices for offering gratitude, thanks, and healing to the Earth
~ The seasonal energies of the Wheel of the Year


The entire course contains over 50 hours of video
and 200 pages of downloadable notes.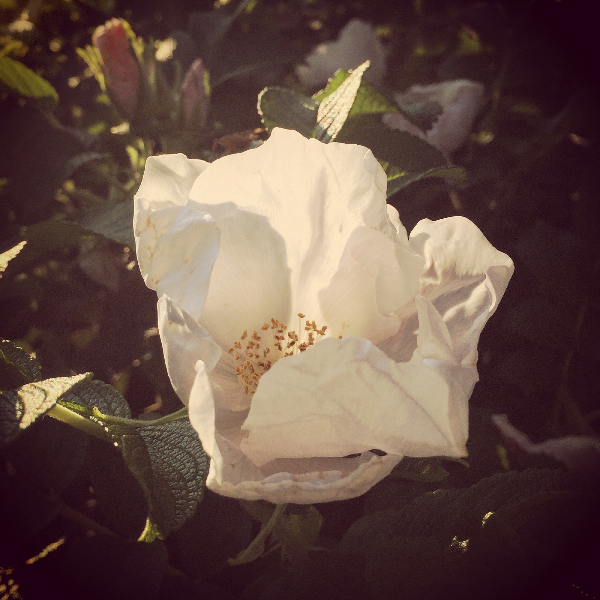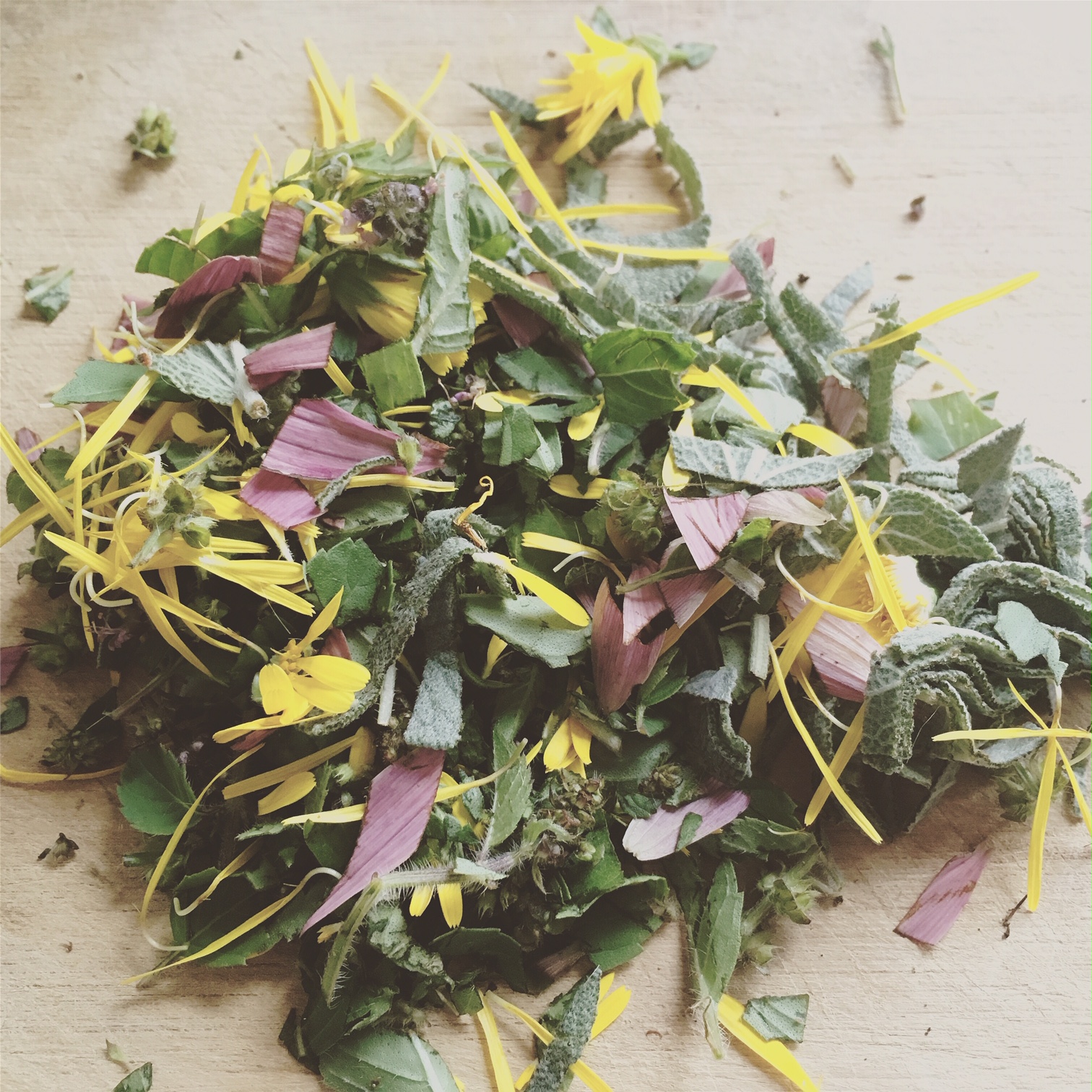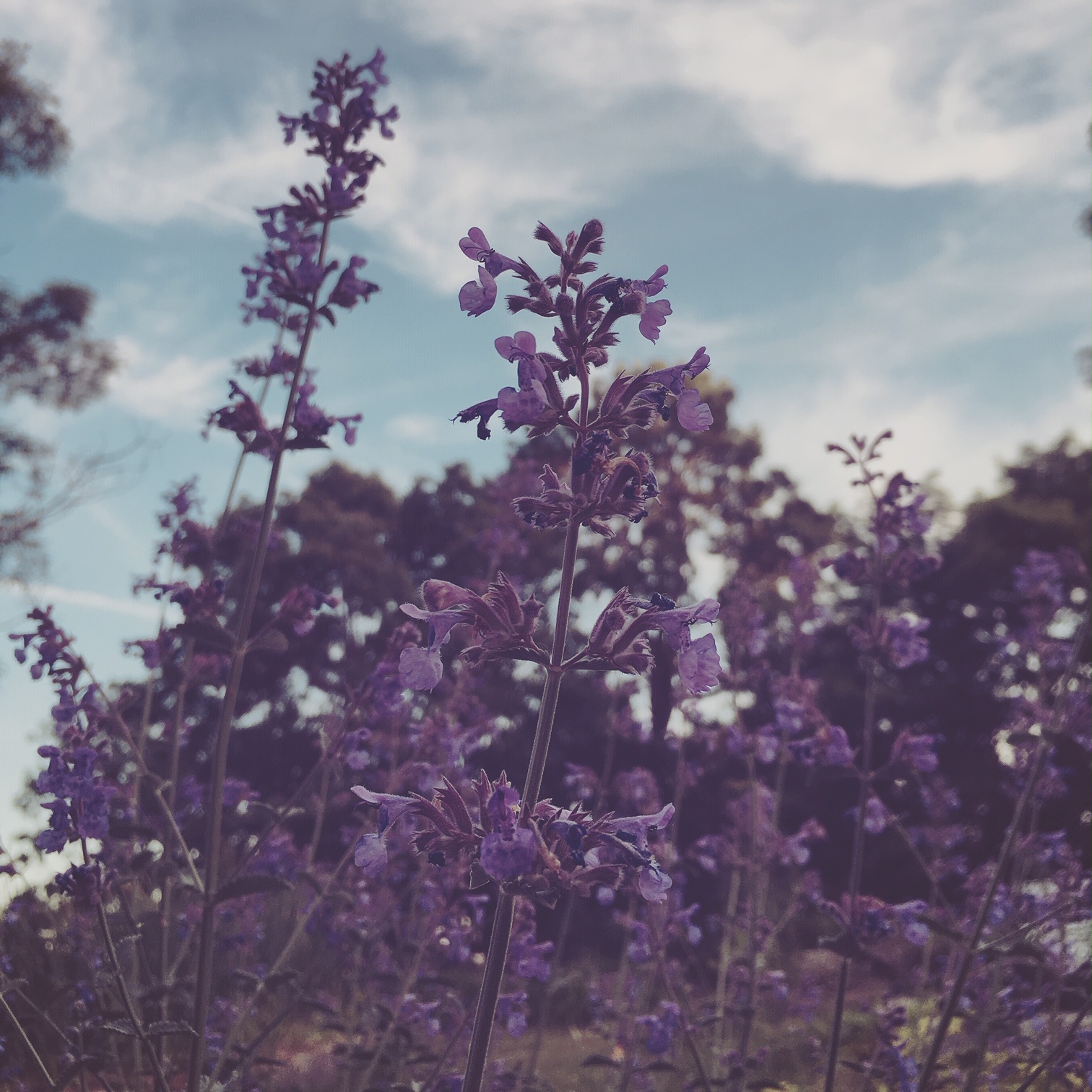 Botanical Focus
While we will focus on herbs that can be grown or wild harvested in eastern Massachusetts (USDA plant hardiness zones 6a through 7a), these plants can also be grown and gathered throughout the Eastern Woodlands as well as much of North America, Europe (which is where many of our wild healing plants originate), and elsewhere. The gardening and medicine-making techniques are foundational and can be useful no matter where in the world you are living and what herbs you are working with.


Working Towards Decolonizing Herbalism
While we strive to follow the wild cycles of the seasons and practice reciprocity with the places we call home, we do so as white settlers living and working on stolen Pawtucket, Massa-adchu-es-et, and Wôpanâak land. Our work is born of an awakened remembrance of our own ancestral traditions rather than a place of cultural appropriation, and we are committed to doing our part to decolonizing herbalism and providing an open-hearted space where all are welcome.
Preview of Course
Content & Platform: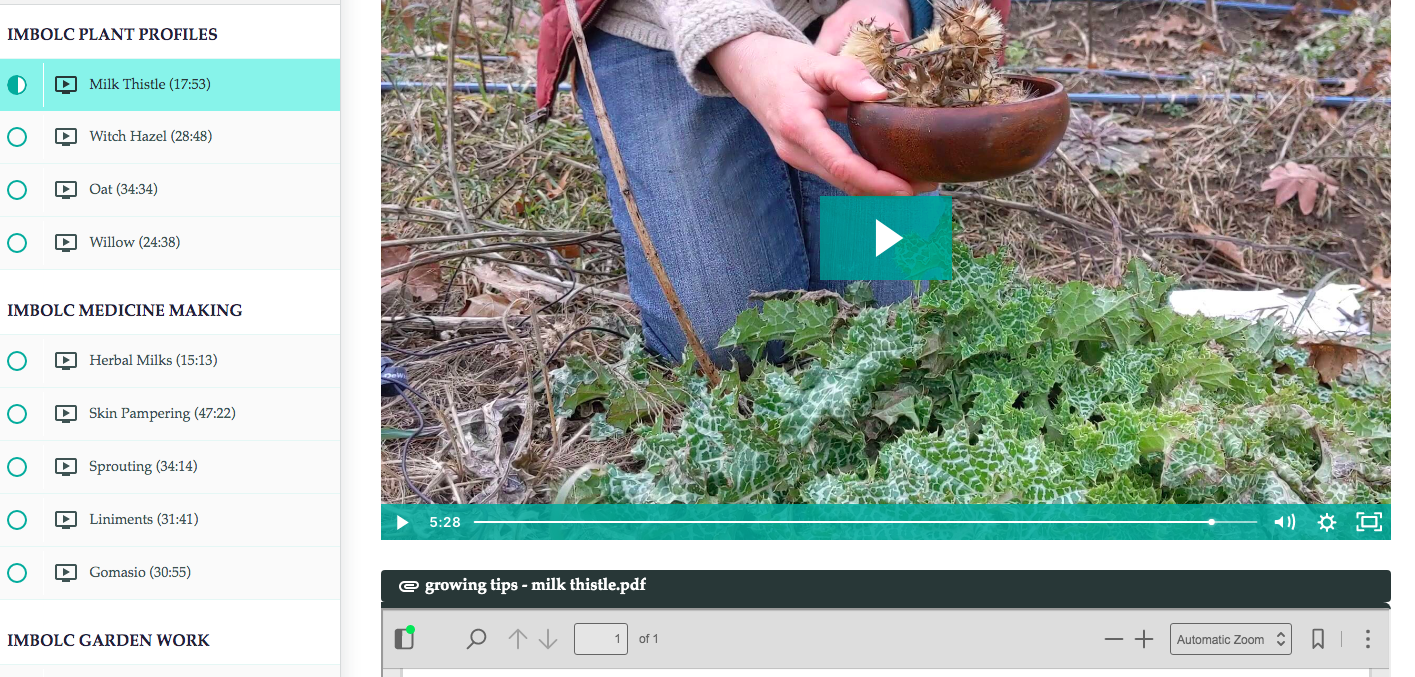 Video lessons are generally 15 - 20 minutes long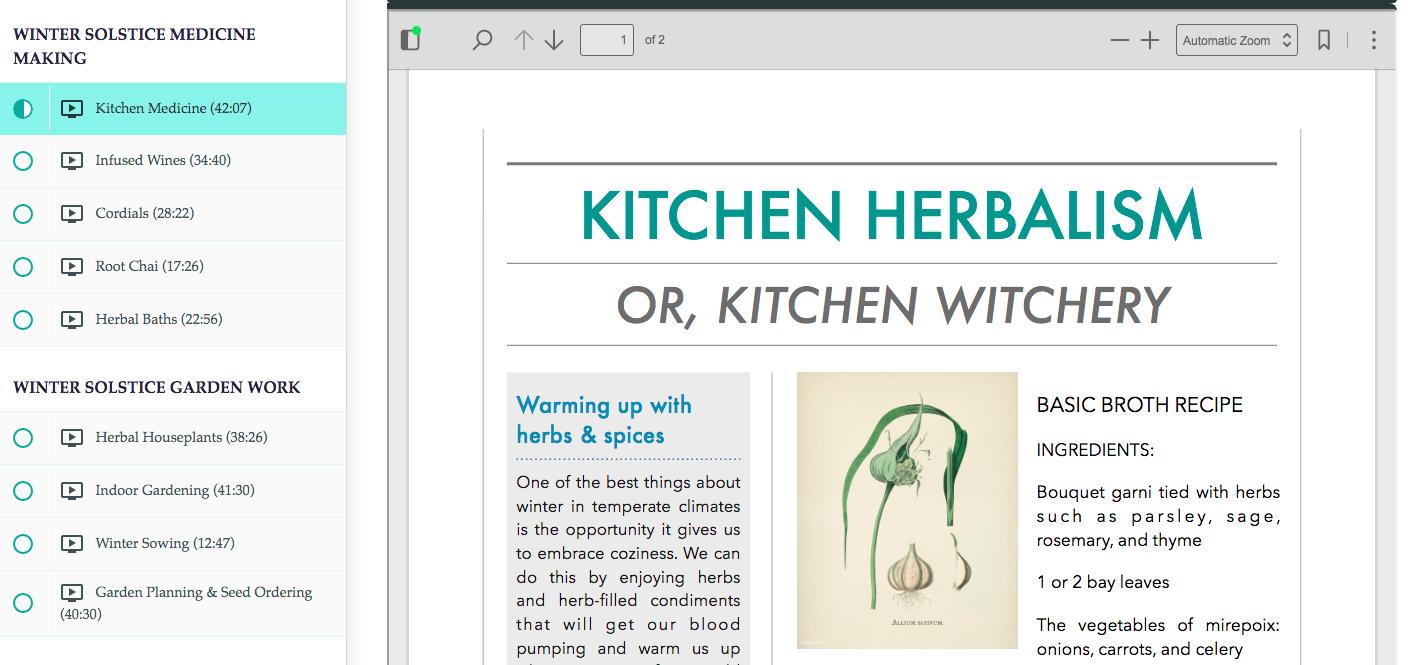 Lessons include downloadable PDF notes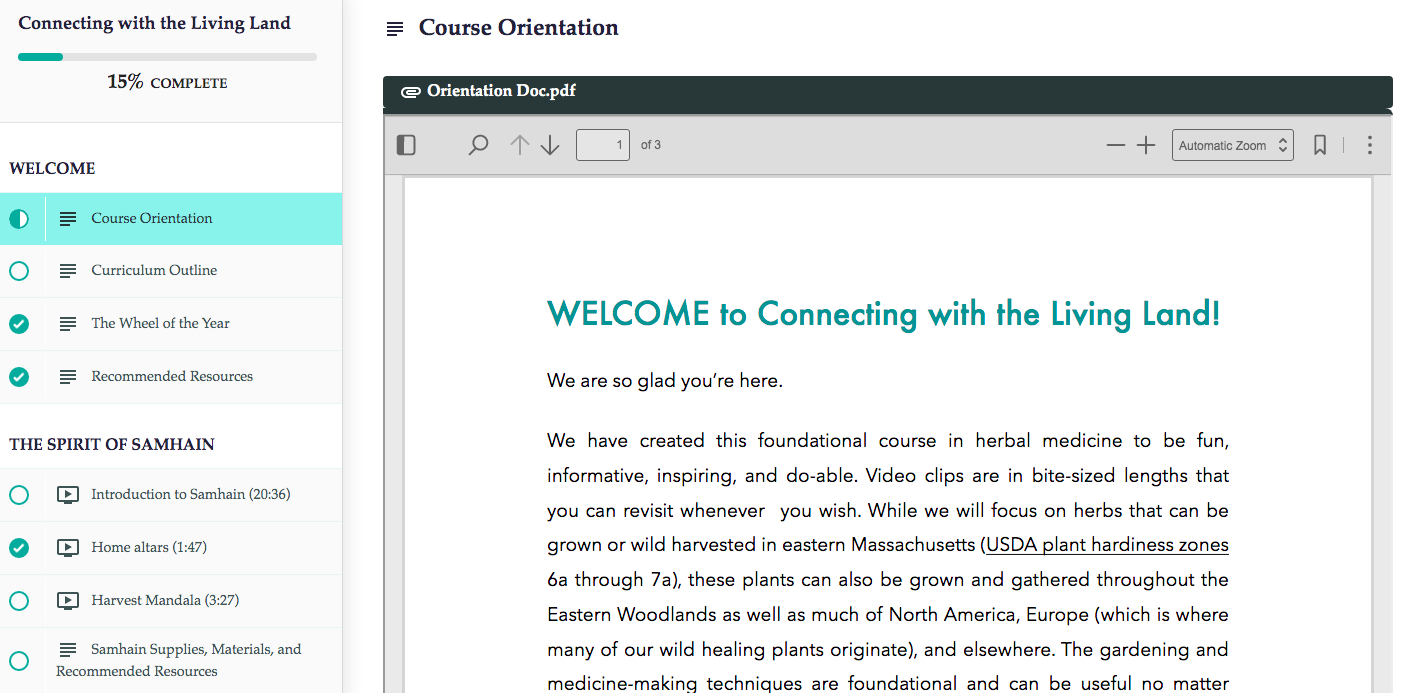 Get oriented in our "Welcome" section which
includes helpful resources to get started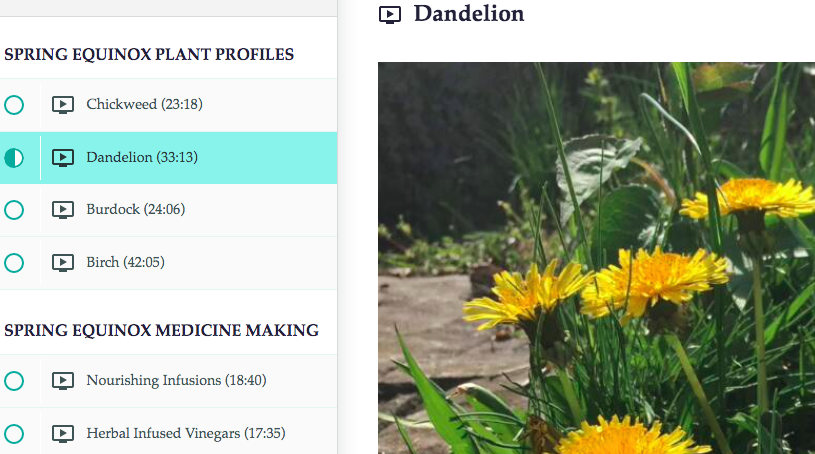 The student dashboard shows past & current
content as well as completed lessons
Video Preview: Making Infusions
Video Preview: Comfrey for Soil, Skin and Spirit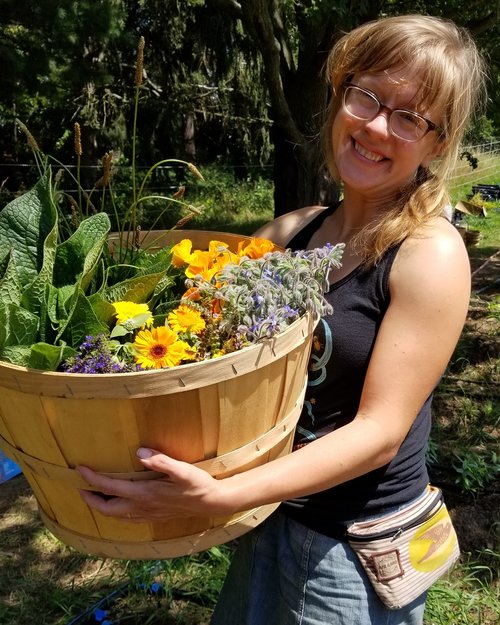 Jenny Hauf
Jenny is a teacher, grower, and writer. She was raised in Milwaukee, Wisconsin on the wild shades of green found in her father's and grandparents' beloved gardens. 
After formally studying creative writing she embarked on a study of plants that took her from an urban farm in Milwaukee to the sandhill crane's mating grounds of northern Wisconsin; the sheep and goat pastures of Italy's Piemonte to the technicolor fields of County Cork; a suburban French herb farm to an apple paradise on the back roads of central Maine. 
In 2015 she created Muddy River Herbals, a farm devoted to bringing a wealth of herbs, biodiversity, and community to the Boston area. Now in its seventh season, Muddy River has unfurled into a hub of vibrant plants and the humans, pollinators, and other wild lives that love them. Jenny also works extensively with native plants as a landscaper, helping people reclaim their yards so that they can be transformed into ecologically rich gardens that delight the senses and provide habitat for creatures such as butterflies, salamanders, and dragonflies. Empowering people to live in engaged reciprocity with their environments is among her greatest passions.
Connect with Jenny: @muddyriverherbals / @livinglandcourse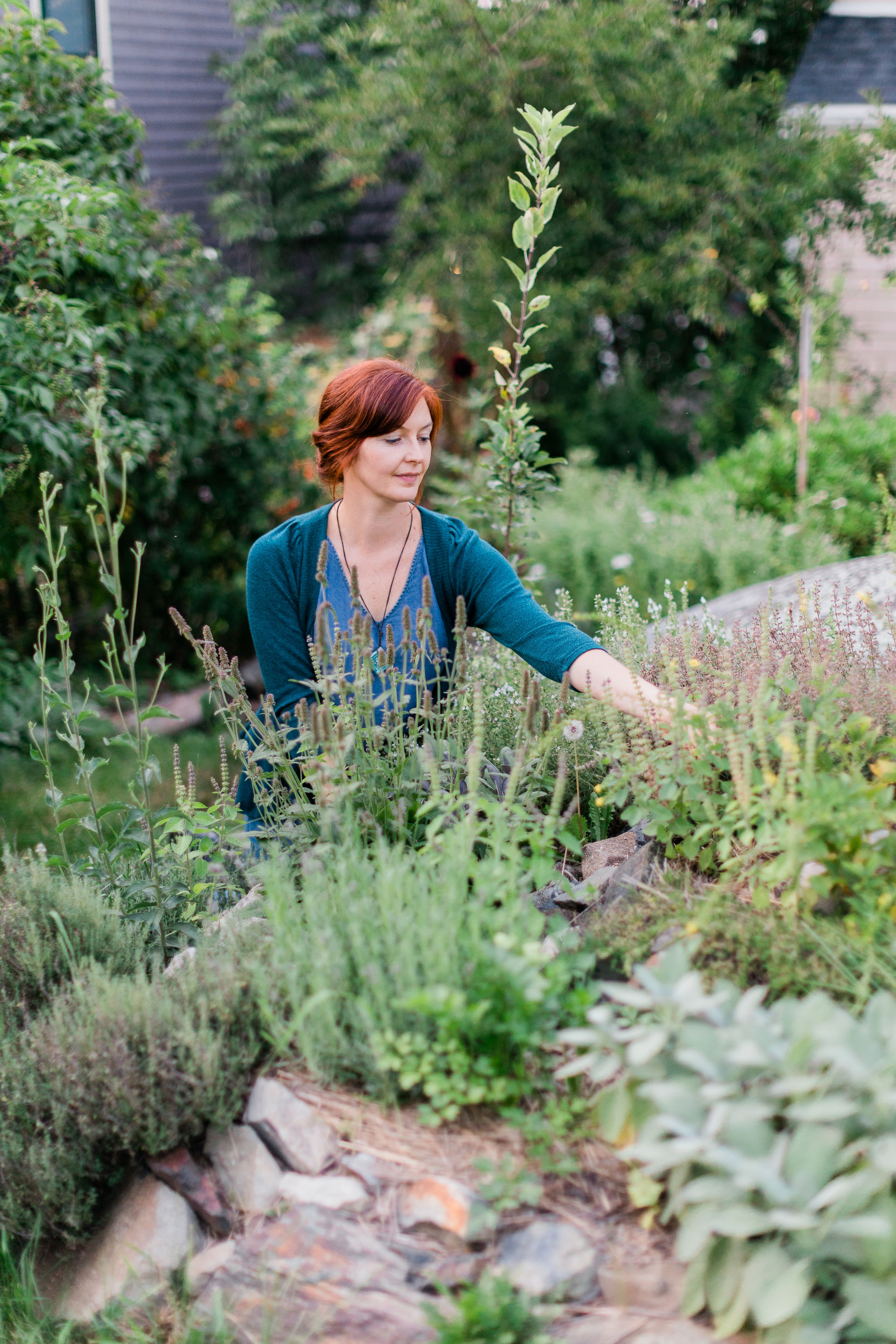 Steph Zabel
Steph is a mother, gardener, herbalist, keeper of chickens, facilitator of community and student of the wisdom traditions. She spent her childhood in the south, and her early adult years living abroad before moving to the Boston area. She has a deep love for the shifting seasons of this part of the world and its connections to her ancestral homeland of Ireland.
Steph is a graduate of the clinical herbalism program at the CommonWealth Center for Holistic Herbalism and holds a MSc in ethnobotany from the University of Kent at Canterbury. She has also studied with the Gaia School of Healing, The Boston School of Herbal Studies, Sage Mountain, and many other teachers who have been influential on her path. For many years she worked in the botanical collections at the Harvard University Herbarium.​ She is the creator of Herbstalk, a lively community-based gathering, which brings together herbalists, teachers and students from across New England. 
Steph draws upon her Celtic heritage and the earth-based spirituality of her ancestors. It is her joy to help others remember the beauty of the natural world, the wisdom of the heart, and our inherent connections to both Earth & Spirit.
Connect with Steph: @steph_zabel / @livinglandcourse
Current Students Share About the Course:
"Steph and Jenny have woven together a deeply moving and engaging journey around our relationship with the land and our Mother Nature. They have done so through meeting plant friends, making medicine, engaging in ritual and gardening/foraging, all within the context of the Wheel of the Year and via tangible learning and intuition, ancient tradition and new practice, modern science and enduring arts, deep reverence and madcap humor! As someone with a bit of experience in certain areas they cover, I was not sure if their course was for me but I decided to take it because my gardening skills needed refining and my witchy soul could not resist the pull of the spirit-based practices. Well, I quickly came to realize there is something for anyone open to what is offered here, no matter where we may find ourselves in our own journeys with the land and nature... and ourSelves. Jenny and Steph's knowledge, skill, intuition, humanity, generosity, vision and contagious heartwarming friendship have brought together something truly unique and special in this course and I am so happy and honored to have entered into this spirit/nature dance with them. Thank you, Steph and Jenny." - C.V.
"This course has gotten me through the COVID pandemic! Every 6 weeks I have new content to look forward to and learn from. I love how the course is structured according to the solar calendar. I am able to apply what I learn by going outside and looking for plants, or growing them myself, and then creating seasonal medicine. I have learned so much! I really appreciate the decolonization framework and focus on land acknowledgment and visibility of Indigenous knowledge in the course that is not exploitative. Thank you to Jenny and Steph for sharing your extensive plant wisdom and love with us!" - Agnes P.
"This course is a joy. Learning practical skills and traditions in using herbs through the year for health, vitality and well being is such a gift, especially from Steph and Jenny, who have such a depth of knowledge and great chemistry as a teaching duo."
"I'm really enjoying this class and learning so much about different plant friends and how to use them. I've been somewhat tuned into the Wheel of the Year for a few years since I'm a gardener (slash aspiring witch), and it's so nice to learn more about the traditions at each time of year and also have ideas for things to make during that time. I recommend the class to people often!" - Kate W.
"This course is such a beautiful way to observe and appreciate our movement through the yearly cycle. I love the way Steph & Jenny marry ritual and spirituality - with practical plant medicine and growing techniques. This course feels immersive and well balanced. And, I'm thrilled to have these resources to return to again and again." - Samantha
"I love this course! Now I feel much more confident in identifying and using wild plants, aka 'weeds'. And before, I would read about tinctures and liniments and all kind of 'complex apothecary words', and I would go: yeah yeah that's something for serious, full on practitioners. Steph and Jen explain this in such an accessible way that now, kid you not, even I can do this! And, of course, learning techniques to sow, grow, and harvest in a way that respects and honours nature. With just the right amount of spirituality. Also, it made me realise how many medicinal/useful plants are growing in both the States and in Europe. You'll have so much fun with this course, I can totally recommend it." - A. from the Netherlands
"You work beautifully together to bring the spirt of nature into all you do. You have totally enriched my life and deepened my love and knowledge of nature. I did not know that this would be possible from an online class! Thank you both for your amazing work!"
"A very well-rounded, extremely thoughtful program in easy-to-learn format providing a wealth of information guiding you to deepen your relationship with nature and plant medicine. In tandem, this course serves as a field guide encouraging us all on how to support being more ethical stewards of the land in learning how to respectfully and sustainably enjoy the bountiful gifts of Mother Nature!" - K.
"This is by far the best investment in self-care I have made in a long time. It has been such an important way to feel inspired and connected this year. I get great, mind-revving ideas; enjoy the company of two smart, gentle and grounded women; and I have a sense of the world around and within me in a new and powerful way."
"I am so happy that I found this course! The lessons are very digestible in size and the written content is informative without being overwhelming. I really enjoy the range of topics covered each month from medical uses to growing tips and potential recipes. I would recommend this to anyone looking to get started with their herbal journey." -Madison S.
This course may be a good fit for you if:
~ You are seeking ways to connect more deeply with the natural world around you.
~ You are interested in holistic growing methods and ecological gardening.
~ You want to learn how to grow herbs in a container garden, a small plot of land, or a large farm.
~ You want to know how to use safe, gentle herbs for yourself and your family in everyday life.
~ You are open to exploring heart-based practices and connecting with the spirit of nature.
~ You prefer bite-sized, easily digestible information. (A video lesson is typically between 15 to 25 minutes long.)
This course may not be a good fit for you if:
~ You seek personalized medical/herbal advice.*
~ You are looking for certification to become a practicing or clinical herbalist.
~ You are turned off by intuitive practices that touch upon the non-physical realm.
~ You need constant contact with instructors.
*Please note that our course is meant to be a gateway into the world of herbs. We are not able to give medical advice, and cannot answer questions related to individual health concerns. We will offer information regarding the traditional uses of plants, as well as our own personal experience with them.
Another Way to Learn With Us

Not ready to commit to a year-long course?
Join one of our short seasonal courses!

Stay in Touch Through the Seasons
Sign up for our free seasonal newsletter, which is released eight times a year in alignment with the eightfold Wheel of the Year.
You'll receive ritual ideas, gardening tips, herbal recipes, current observations and musings, and inspiration for connecting with your local landscape.


We look forward to celebrating the seasons with you!